Digital Asset Management (DAM) software is a business process management solution which provides you with a centralized online hub to create, manage, share, track and find digital assets, to manage the creative process.
A DAM software streamlines the management of all files including; documents, video, audio, design files and presentations. Digital Asset Management software is a core part of Marketing Operations Software but also integrates easily with other technologies such as Content Management Systems, ensuring that your DAM isn't an island – but rather, the single source of cohesion for your marketing stack.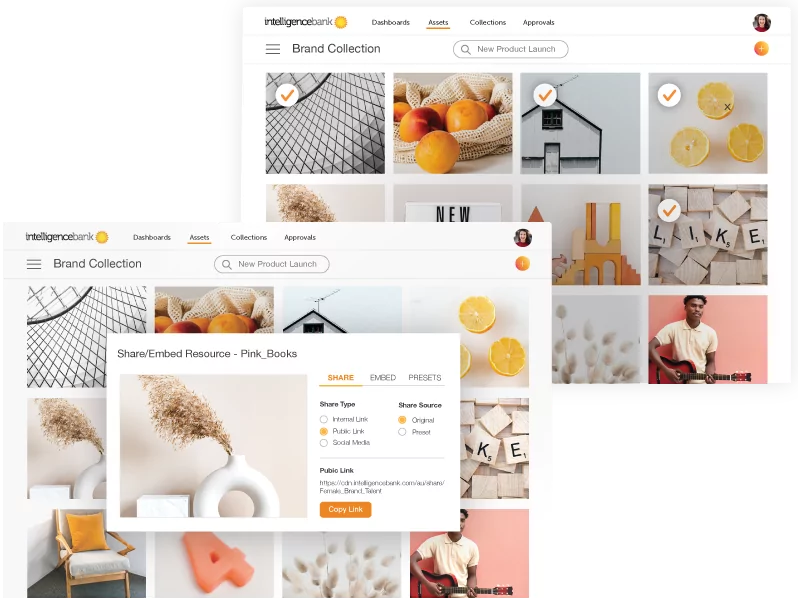 Digital Asset Management Software can come in many
shapes and sizes
and can be hosted on the cloud or on premise. When you are looking for a Digital Asset Management solution, it's important to note the different types of DAM systems out there.
are used to simplify the process of managing and distributing creative files such as images, audio, video, Microsoft Office, Adobe CC and PDFs. The driving requirement of Digital Asset Management is to centralize files, categorize them according to the business and make them easy to both share and track.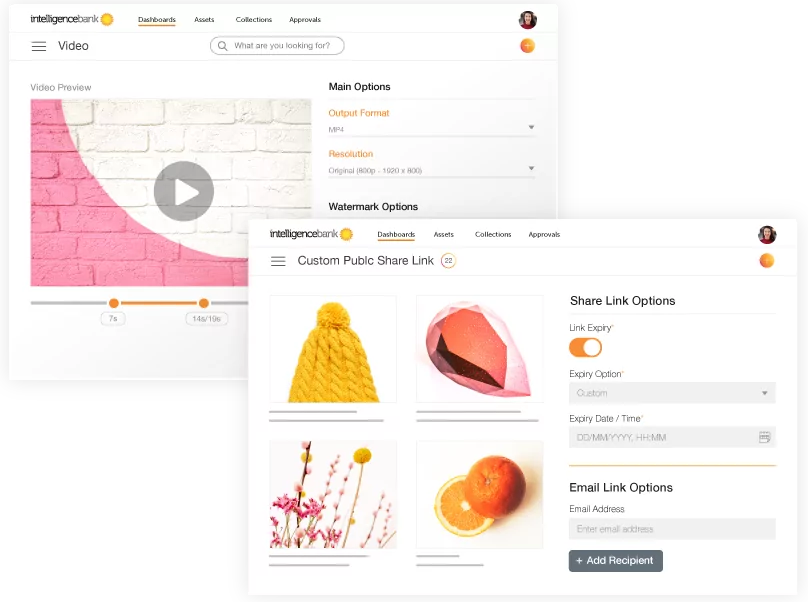 Want to Know More About the Powers of a 
Leading DAM?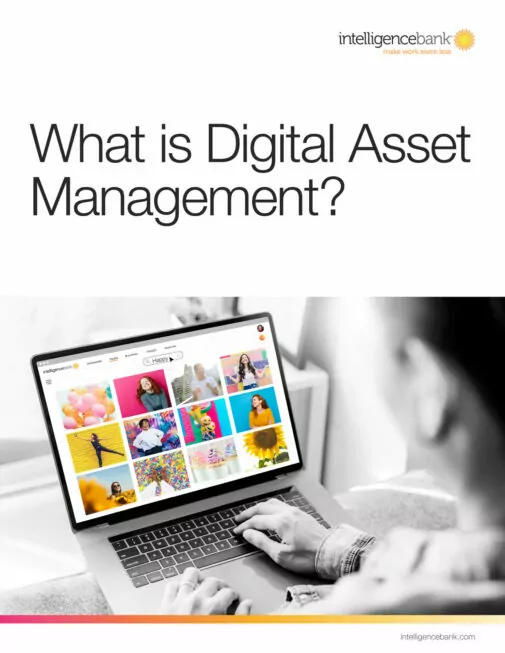 Download our "What is Digital Asset Management" Whitepaper and you will have access to:
A breakdown of what DAM software is and what it is not
The solutions DAM software can offer
The ROI on Digital Asset Management software for your business
Top 10 features you should demand from your DAM
Digital Asset Management (DAM) Features

Centralized Asset Library
Store, organize and access all your images, videos, documents and files in one location for a single source of truth. Hundreds of file types supported.
Share Assets
Email asset links to internal users, teams or external agencies via public or private links. Embed DAM assets directly into websites. Update assets across multiple platforms with 1-click.
Metadata Management
Customize metadata fields and embed metadata from IntelligenceBank into your files.
Lightning Fast Search
Search millions of files in seconds according to keywords, metadata filters and custom tagging.

AI Keyword Tagging
Use AI Technology to automatically tag assets with the most relevant keywords.
Custom Welcome Page
Give users a beautiful experience that is true to your brand.
Lightbox Collections
Group assets for specific projects and share them with your team or externally.
Transform Assets
Quickly transform images and videos in different sizes and file formats. Includes presets for social content directly inside your Digital Asset Management. 
Bulk Upload + Download
Everything is better in bulk!
Save time with easy to use Drag and Drop.
Creative Templates
Create localized content using pre-approved templates that link directly to approved assets.
Asset Relationships
Link assets together with one-to-many relationships, such as grouping images into a campaign, or tracking a model's talent usage rights across different images.
Asset Review Dates
Set review dates for licensed assets, talent usage rights and promotional end dates. Use your Digital Asset Management to setup dates for assets to expire and archive.
Workflow Approvals
Deliver approved marketing projects faster. Conditional and multi-hierarchical workflows included. Scenarios include approvals for downloading assets, publishing new creatives, or general feedback.
Proofing & Markups
Mark-up documents, images, videos and other file types with annotations and comments in DAM.

Version Control
Maintain a history of all asset versions. Compare different versions side-by-side with associated markups and comments for each version.
Custom URL
Access your Digital Asset Management via your own branded URL.
Main Admin Panel
Manage and control users permissions and access. Configure general settings and run usage reports by users and features.
Asset Reporting
Everything is tracked for compliance. Create custom reports and dashboards on your digital asset usage, expiry dates, metadata and approval information.
Achieve Brand Compliance with Digital Asset Management Software
As a feature of Marketing Operations Software, Digital Asset Management can be truely leveraged to increase efficiencies and ensure brand and marketing compliance.
Enterprise businesses who need processes around creative production, campaign management or operate in highly regulated industries where compliance requirements need to be met are shifting away from stand alone Digital Asset Management systems and instead opting for these features as part of Marketing Operations.
In doing so they can achieve the following:
Manage creative workflows
Manage alerts and reminders
Edit web-to-print templates
Collaborate creatively with version control, comments and markups
Manage tasks against a project, including reporting on stages and completion rates
Publish digital brand guidelines for easy updating
Manage creative projects
Submit creative briefs online and track the status of marketing projects
Include budgets and designer workload
Want to know more
about DAM?
Simply fill in the form below and one of our team members will be in touch.