Brand protection is a risk that tops many marketer's list of worries.  We spend a significant portion of our resources building brand equity yet an incorrect logo or a clip art poster can destroy that work in seconds. In days gone by a PDF version of the company style guide was enough to ensure correct brand usage, yet in modern enterprise business, this is not an effective way to ensure brand governance.
Marketing leaders are shifting towards online BrandHub Portal to showcase their brand, distribute assets and provide a controlled environment where users can customize creative within set parameters.
The role of marketing has grown, touching every part of the business and it's no longer possible for marketing and branding teams to control all creative output. This is especially true in geographically disparate companies with bricks-and-mortar locations wishing to engage in local area marketing or when dealing with third-party suppliers and sponsors.
An online brand portal can be accessed from anywhere in the world and be made publicly available or restricted to those who require access. Customizable pages showcase correct usage of the brand and unlike a 100-page document are easy to navigate and understand.
An online brand portal starts to become more powerful when it integrates seamlessly with a digital asset management system.  This enables users to see examples of correct and incorrect brand usage and then download the relevant brand assets directly from the page.  Where there is a need for greater control approvals can be placed on download requests, so that permission is given before the asset is made available.  Being able to access the correct logos, fonts, icons, templates and stationary significantly reduces administrative pressure on marketing by minimizing the number of requests for these assets.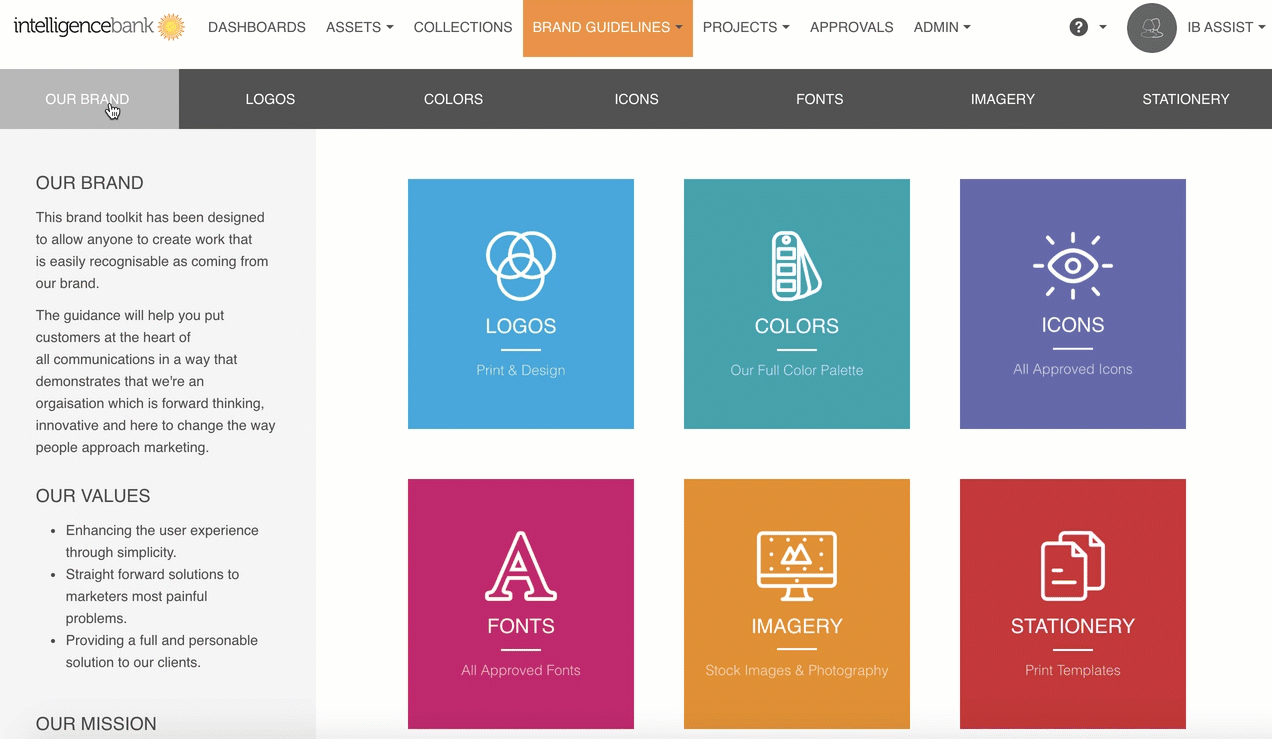 An online brand portal can also be combined with other features of marketing operations software for seamless management of your brand.  Answer your most common brand questions by using conditional logic, directing users to the solutions and assets they are looking for.  Requests and briefs can also be submitted via online forms then delegated to the right people to action.
Where non-marketing staff are developing their own creative content, creative templates are a way of ensuring that branding and messaging are aligned with the rest of the business.  The level of customization permitted on templates can vary greatly, locking down logos with editable text and images, or connecting editable areas to databases within your marketing operations platform.  Creative templates allow anyone within the business to contribute to local area marketing without sacrificing quality.
An online brand portal isn't just a great way of sharing your brand guidelines with staff, agencies, third parties, sponsors and stakeholders.  When combined with other marketing operations features it also reduces marketing administration, offers a way for the wider business to communicate with marketing and brand teams and provides greater control over local area marketing.  In today's marketing landscape an online brand portal is an essential tool for enterprise businesses in ensuring effective brand governance.