For most organisations, getting from creative concept to final campaign is a tortuous process. The IntelligenceBank marketing operations platform helps streamline the process, leaving you energy for the next great concept.
Most marketing departments are running in overdrive; briefing in campaigns and projects that relate to those campaigns. Then there are the tasks, the zillion little things that need to get done to get the next best creative concept off the ground and of course, creative approvals throughout the production process.
For some, this process is chaotic, last minute and frankly insane trying to manage everything in spreadsheets, email and shared drives. But with IntelligenceBank's marketing operations platform, we can help you streamline the entire campaign management process from brief to final approvals. Here's how we do it for clients across a range of industries.
It all starts with a campaign brief
When you have the idea of a new campaign and over-arching value proposition, marketing teams can create a draft campaign brief within IntelligenceBank, specifying outputs – which eventually become projects – such as landing pages, ads, social and more. Within the campaign brief, you can specify target markets, messaging, product support and calls to action. You can also stipulate budgets, KPI's and other measures of success. Once you submit the campaign for content and budget approval, you can then add project briefs that 'live off' the master campaign. Within each brief, you can also track time, budgets and creative approvals for each execution.
Create individual project briefs off a single campaign
How do you eat an elephant? One bite at a time. By breaking down your campaign into individual briefs, not only can you be specific to the media channel, but also, you have flexibility to assign the project brief to specific agency partners or internal designers. Also, different projects can be routed for approval to different stakeholders depending the product advertised, the channel and delegated authority for approving budgets.
Within a project brief, you can add tasks and assign them to contributors or approvers on the project. With a full audit trail, there is never any doubt about who actually signed off on the brief.
When you add a creative brief, once approved, automatically you can create a 'digital job bag' to manage the work in progress artwork, invoices and contracts, or any other related files.
Task Management
Associated with each creative brief can be a task that needs to be done to finish the specific project. For tasks, you can assign owners, a status, notes and due date. You can run reports of tasks assigned to you and or your team, and automatically create alerts for overdue tasks. Dashboards can instantly display new tasks, tasks in progress and completed tasks.
Creative Approvals
Also in the job bag is a final artwork folder, where you can move finished designs to be approved by specified people. Creative approvals can be routed to 'many' and one person can sign off, or hierarchical approvals are available for routing.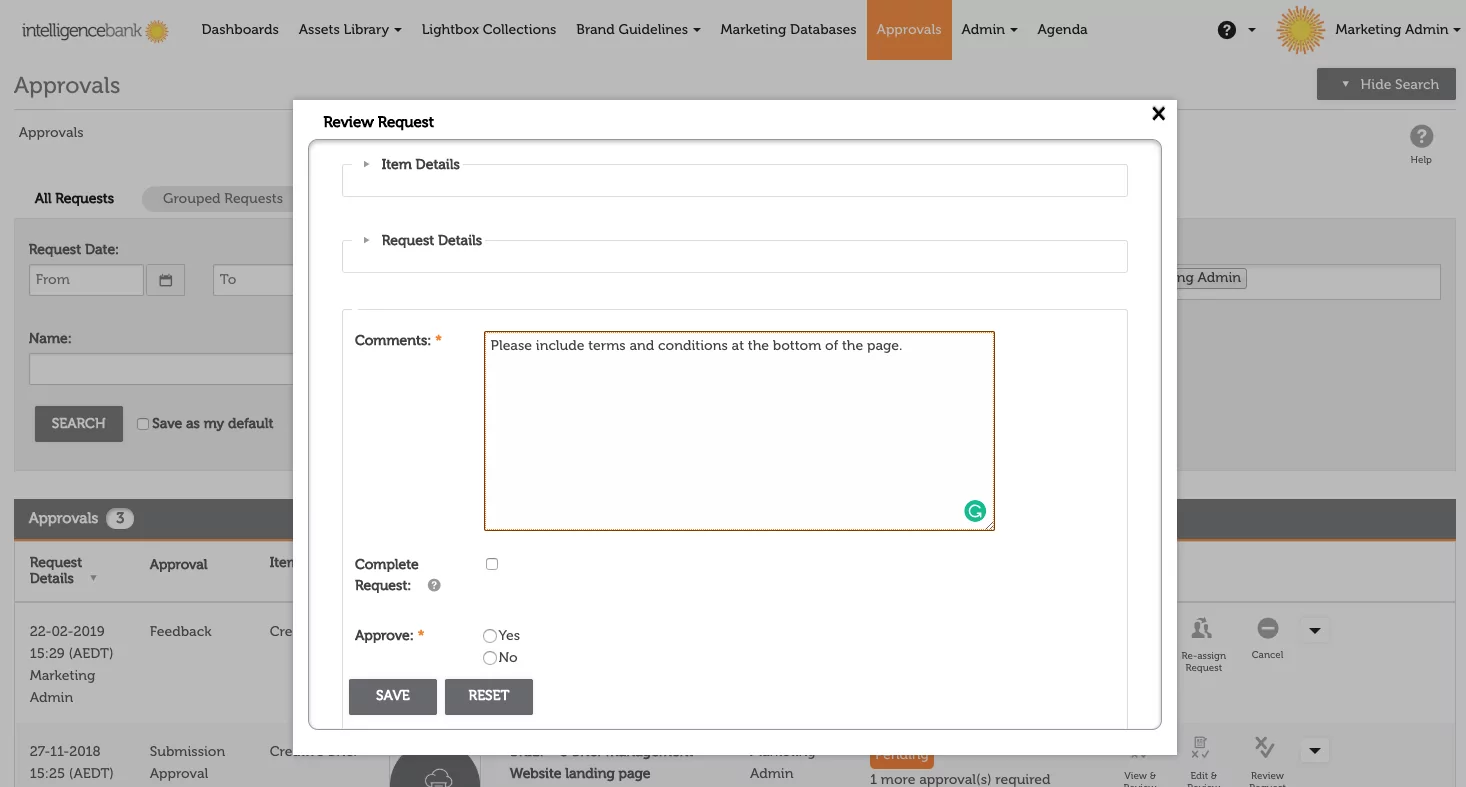 Scheduling has never been easier
With different calendar views, all of your approved campaign briefs and project briefs can be viewed in one place. With custom start dates and end dates, and the ability to click from the calendar to the creative, having a birds-eye view of all campaign activities in market at a time makes creative planning more of a science than an art.
Streamline the creative approval process with download approvals, publish approvals and general feedback workflow on any file. Track history of digital sign offs in a dedicated approvals area. Contact us today for a demo to learn how.