Successful campaign management requires constant and dependable marketing workflows.
Everyday marketing teams are producing vast amounts of content across a wide range of channels. From the production of print and video, to social, digital and sales collateral – the list goes on. Add to this a network of agencies and freelancers that help produce this content and thereby as a result the process becomes very complicated. With all these moving parts, it's easy to see how having uncoordinated marketing campaign management can lead to poor execution or even worse – exposing one's brand to unnecessary risk.
Navigating Compliance
Obstacles
Heightened brand risks, tighter timelines and new compliance requirements demand a greater focus for streamlined operations and improved marketing efficiencies. Brands in highly regulated industries must navigate brand, legal and compliance obstacles before any marketing content sees the light of day.
How do you regain control and make the campaign management process more effective?
IntelligenceBank's Marketing Operations Software (also known as MRM) and DAM help overcome all of these content roadblocks by increasing marketing efficiency and getting approved work out the door faster. The software solution manages digital assets (DAM), automates brand compliance and improves collaboration between teams from one convenient place.
Work Faster, Reduce Risk &
Maintain Brand Compliance
As the marketing system of record, our unique workflows help move content through the marketing compliance process so you can get work done faster, maintain an audit trail of approvals, track what's important and stay compliant. To inspire your team to create great work quickly, here are the top seven marketing operations software workflows leading brands use to reduce risk, tackle campaign management and unleash the power of their content.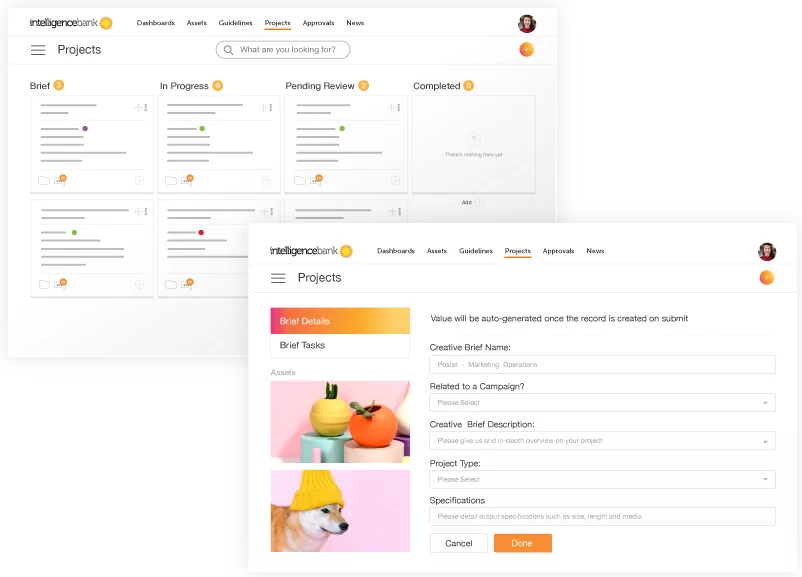 1.

Ensure everyone is on the same page: Automate briefs and assign collaborators
As a marketing professional, campaign management is a big task – all of which starts with the foundations set by each creative brief. Behind every piece of great content is a comprehensive and coherent brief that has been signed off by the necessary stakeholders involved.
Capture
campaign management
essentials upfront
Automating a creative brief into a workflow ensures that everyone is on the same page and allows you to gather all of the required information for creative production and marketing projects upfront. It captures all of the essential information from the get-go, such as job numbers, target audience insights, media, single-minded value propositions, due dates and KPI's.
Instantly assign

collaborators
A must-have workflow is a smart briefing form that will instantly assign individual collaborators. Having an online creative brief hosted in one online location and accessible to relevent collaborators means everyone can focus on creating content that achieves great results and brand compliance.
2.

Democratize marketing compliance: Auto-generate the fine print
One of the biggest bottlenecks in marketing campaign management is determining the 'fine print' that needs to go on which piece of content. Incorporating a workflow within IntelligenceBank's Disclaimer Engine democratizes marketing compliance, reduces risk and saves time during creative production. 
The Disclaimer Engine takes into account any variable, such as the type of media, distribution channel, location and audience.
A decision engine is a workflow tool that uses conditional logic. It guides the process along and when certain decisions are made the logic is automatically triggered, displaying the correct 'fine print'. More importantly, it drives a culture of ownership when it comes to legal disclaimers.
How can a Disclaimer Engine help?
Auto-generate the fine print
During the design process, conditional logic systems allow marketers to self-serve by inserting the correct disclaimer.
Eliminate human error
Negates the risk for human errors and removes any guesswork around disclaimers
.
All in one place
Provides a clear audit trail of 'who' approved 'what' and 'when'
.
3.

Escalate approvals to the correct owner: Score content based on a risk profile
Producing and distributing creative content comes with the possibility of having incorrect information, messaging or even design. To avoid these risks, all branded content must go through a proper approval process. 
Triage

approved
content
to the correct department 
 It can be difficult to escalate potential concerns without a system that can identify and accurately triage approved content.
Having an approval workflow in place saves time and ensures that all published content has been approved by the correct department – such as management, brand, legal and/or compliance teams. 
Decrease risk by

automating

a risk profile 

With IntelligenceBank's creative approvals workflow, you can also automatically score content based on its risk profile. The workflow easily identifies factors such as 'price points' and 'guarantees' and will automatically triage approvals to the correct owner for final sign-off. Decrease risk and manage projects from end-to-end with a full audit trail of approvals.
4.

Connect tools across your MarTech stack: Instantaneous API workflows
No system is an island. For marketing departments who rely on multiple technology solutions, connecting their Digital Asset Management (DAM) or Marketing Operations Platform to other systems such as Microsoft Teams, Jira, Slack and other project management systems is a must. 
Using IntelligenceBank's Handshakes ensures that process is always present across your entire MarTech stack. Handshakes are out-of-the-box 'if this, then that' API workflows that instantly connect alerts, files, briefs and tasks to other applications across your MarTech stack.
Having integration workflows enables marketing teams to connect to the tools they use every day.
Take for example:

If someone requests a landing page in a creative brief from the IntelligenceBank platform, the workflow automatically creates a task in Jira. Once the task is complete, it's marked as 'done' in IntelligenceBank.
If someone is assigned to collaborate on a marketing project from the IntelligenceBank platform, the workflow notifies them via Microsoft Teams
If a new whitepaper is uploaded to IntelligenceBank's DAM, a Slack message is sent to the relevant team members.
5.

Local area marketing made easy: Create localized content at scale
For marketers in every industry, getting great work out the door quickly can be difficult. This is especially the case for marketers in highly regulated industries where claims you make in advertising cannot be misleading and it's a fine line between selling a service and providing illegal advice. 
Given that most marketing teams also have a stable of external partners and brokers who are required to create co-branded marketing ads on the fly, they need a solution that enables local stakeholders to customize marketing content without risking brand compliance during the production process. 
Create on-brand
content
at scale
IntelligenceBank's user-friendly creative template solution ensures all content created by anyone in your team (brokers, partners, staff, sales, marketing etc) is on brand and has been created within your set parameters and design. 
Automate

the creation of local
content
This workflow exists between databases of information and the creative templates that are automatically populated when a specific design is needed. Once the end-user chooses the information needed for their ad, the workflow automates the creation of the content.
Therefore if you have teams working in different regions, they can customize marketing material to:
Personalize
Personalize their contact details
Make tweaks
Make tweaks to the products and/or services based on their geography
Fine print
Ensure the necessary 'fine print' is present
Disclaimers

remain intact
This workflow provides complete assurance that all disclaimers remain intact, the design is correct and overall messaging is compliant – regardless of who edits the template.
6.

Stop the email chaos: Streamline repetitive marketing requests
With the constant influx of inbound marketing requests from the wider business, a marketing inbox capability can help manage and reduce the email chaos.
A digital destination for
marketing requests
This workflow is a simple online form called 'Ask Marketing'. It's a digital destination for anything required from the marketing team, bypassing unnecessary human-hours where they're not needed and streamlining overall campaign management.
Self-serve

inbox workflow 
If it's a repeatable request such as "Where's the logo?" or "I need to start a sponsorship" – you can automate the responses with a self-serve inbox workflow.  This gets people out of email and forces them to provide marketing with complete information, as well as streamlining the marketing job request process. 
Using IntelligenceBank's marketing inbox workflow reduces marketing administration time up to 30% and allows marketing to work on bigger and more strategic projects.
7.

Effective brand management: Control how creative assets are used
Effective brand management is more than just beautiful design. It's about ensuring that you have the right measures in place to control how your brand assets are being used by the rest of the business, agency partners and third parties. 
When you provide access to branded assets to the broader organization, you may want to control which files can be automatically downloaded.
Maintain
brand compliance
Take for example, a custom download approval form. You can 'ask' users to nominate 'why' they need a piece of content and for 'how' long. This is especially useful when there are usage restrictions associated with that file. Once the download request is approved, only then can the asset be downloaded for use. 
A clear

audit trail

 
Controlling how creative assets are being used ensures that important factors such as talent usage rights are being adhered to and provides a record of 'who' is accessing 'what' and 'when'.
Download our "7 Must-Have Marketing Workflows" Whitepaper
Want to share this with your team?
Click below to download a PDF file including all of the information on this page for free. Happy sharing!